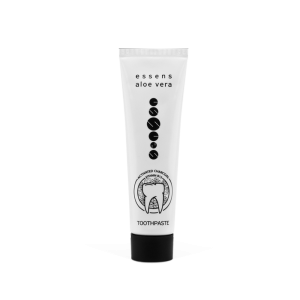 Unavailable
To cart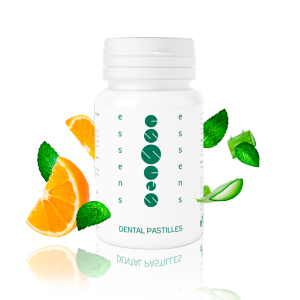 In Stock
To cart

Aloe Vera Toothpaste


Volume: 100 ml
Toothpaste containing Aloe Vera, fluoride free.
With regular use, it very effectively removes dental plaque, reduces the formation of tooth decay, increases the quality of tooth enamel, the appearance of teeth and, above all, removes possible gingivitis and alleviates their manifestations. In addition, it provides a long-term refreshing effect in the mouth, all without the use of fluorine in its recipe composition. This makes ESSENS Aloe Vera Toothpaste one of the exclusive products that protects us from excessive use of fluoride and its accumulation in the human body.
The Aloe Vera Barbadensis Miller in toothpaste comes from organic plantations in Mexico and is highly valued for its strong antibacterial and anti-inflammatory effects. It contains a mixture of vitamins, minerals, inorganic substances and organic compounds that have a positive effect on the human body.
According to studies, it has antimicrobial effects in toothpaste and may have a positive effect on inflammatory processes in the oral cavity and on the reduction of plaque.
The Aloe vera content in toothpaste is an incredible 50%! The antibacterial and anti-inflammatory effects of the plant are used as much as possible, and thanks to this, excellent results are obtained in the healing of infections in the mouth and the alleviation of their manifestations. Minor wounds heal just as effectively in the mouth. Toothpaste has a preventive effect against periodontitis and maintains the health and freshness of the oral cavity.
Why doesn't ESSENS Aloe Vera Toothpaste contain fluoride?
There is a sufficient amount of fluoride in commonly accepted food, so it is not necessary to add it to the body additionally, even with toothpaste. Therefore, fluoride-free toothpastes are recommended for both children and adults.
Use: We recommend thorough brushing of the teeth at least 2 times a day, ideally after each meal.
Manufacturer: ESSENS EUROPE SE, Zaoralova 3045/1e, 628 00 Brno
Ingredients (INCI): Concentrate Aloe Vera, Hydrated Silica, Sorbitol, Glycerin, Dicalcium Phosphate Dihydrate, Sodium Lauryl Sulfate, Cellulose Gum, Menthol, Sodium Saccharin, Allantoin, Potassium Sorbate.